May Promotion – Annual Conference 2021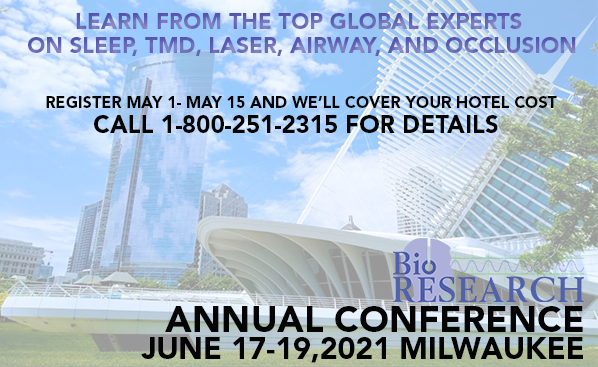 With fantastic speakers like Dr. Mike Smith and his amazing expertise in Laser therapies and Dr. Ray Becker's practice building secrets, it's hard to imagine that you might not be extremely excited to come to Milwaukee.
We will be providing a special event that to our knowledge no one has done to date, a discussion panel of several of the top trainers in TMD, Sleep, Airway, and Occlusion. This panel will be special because we're going to get questions from our social media audience and the panelists will be able to debate their positions.
Names like: Dr. Robert Kerstein, Dr. Ben Sutter, Dr. Dan Klauer, Dr. Steven Olmos, and Dr. Lee Ann are just a shortlist of dental celebrities that we've rounded up for this amazing event.
We're in the home stretch so I'd love to provide you this special offer which will end on May 15th, 2021. Register for the conference now, and we'll pay for your Saint Kate's hotel for the entire conference. We want to make it extremely easy to come to Milwaukee and we hope that our efforts are not unnoticed.
Simply give our team a call at 800-251-2315 or visit our Conference Page and register for this special promotion.