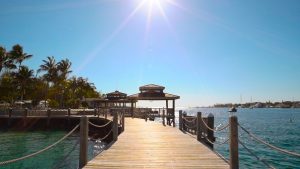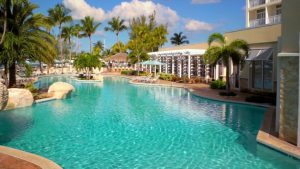 The Venue - Warwick Bahamas
Immerse in the idyllic retreat of the Warwick Paradise Island Bahamas – All-Inclusive Resort, pursuing perfection in all aspects of luxury and hospitality. An adult-only, 16+ all-inclusive resort, stress will slip away upon checking in, leaving you to do nothing else but enjoy. Resting on the south shore of the island, take a dip in the resort's private harbor or bathe in the warm rays of the Bahamian sun lounging on the white sandy beach. Reputed for our scrumptious food, indulge in one of the famous 5 dining outlets where even the most discerning appetites will be spoilt for choice. Bask by the pool with a drink at Hog Bar and then let your hair down at night at our Rum Cay lobby bar.
The Warwick Paradise Island Bahamas - All-Inclusive beachfront Resort and Spa pursues perfection in all aspects of luxury and hospitality, ideal for your next vacations, honeymoon or spring break. 
This award winning resort  has been named second best resort in The Bahamas by Conde Nast Traveler being the only all Inclusive resort to make the list on the 2019 Reader's Choice Awards Opens in a new tab. , this award, along with being voted the Best All-Inclusive Resort in the Caribbean Journal's Bahamas Travel Awards Opens in a new tab. earlier 2020, cements the resort's legacy, making it indisputably one of the very best in the Bahamas.
COVID-19 Precautions: The Warwick cares about it's guests and has published their Warwick Cares program, view it here: https://www.warwickhotels.com/warwick-paradise-island-bahamas/warwick-cares-program
Dr. Ray Becker, DDS, FAGD
Dr. Becker's view on implementing data-driven insights into your practice is one every dental professional should understand completely. Learn how to get a baseline of the function of the jaw joint on every single patient, how to master the differential diagnosis, and how to grow your practice by capturing the 1 in 3 people with known TMD. Dr. Becker is a high-energy speaker that our clients have enjoyed greatly and his work shows exactly how successful a dentist can be with the right tools and business practices.
Dr. Mike Smith, DMD
Dr. Mike Smith has become the pioneer in the use of the MLS Therapy Laser. His professional career as a highly successful reconstructive and aesthetic dentist and his mastery of data-driven techniques have shown time and time again that getting the data and understanding what the data means, helps patients to enjoy life again, one smile at a time. Dr. Smith shares his advanced techniques in data interpretation as well as groundbreaking use of the MLS Laser in dental practice.
Speaker to be determined
We will be announcing the speaker soon. We've got some great ideas and we're working to firm up one of the most insightful speakers in dentistry.... STAY TUNED!!
Thank you for considering one of the most life-changing training events we've ever planned. We're pulling out all the stops to make this an amazing event! Having Dr. Mike Smith, Dr. Ray Becker, and another great speaker together provides the practitioner the level of advanced TMD, Sleep, and MLS Advanced Laser Training we've ever offered in one place. We are only offering this course to the first 50 people, and we're personally inviting a shortlist of the industry leaders. If you'd like to join us, you need to do it quickly.
Fill out the form on the right to be added to our e-mail information list.